Countertop Installation Contractors
Countertop Services in The Crossroads
Countertops are often the hardest working areas of our homes. We want them beautiful, but durable, and of course, easily maintained. Countertops have the potential to dramatically enhance the look of your home. At Jung Tile & Granite, we offer you the most popular options in the industry! Talk with us about which surface might best suit your needs.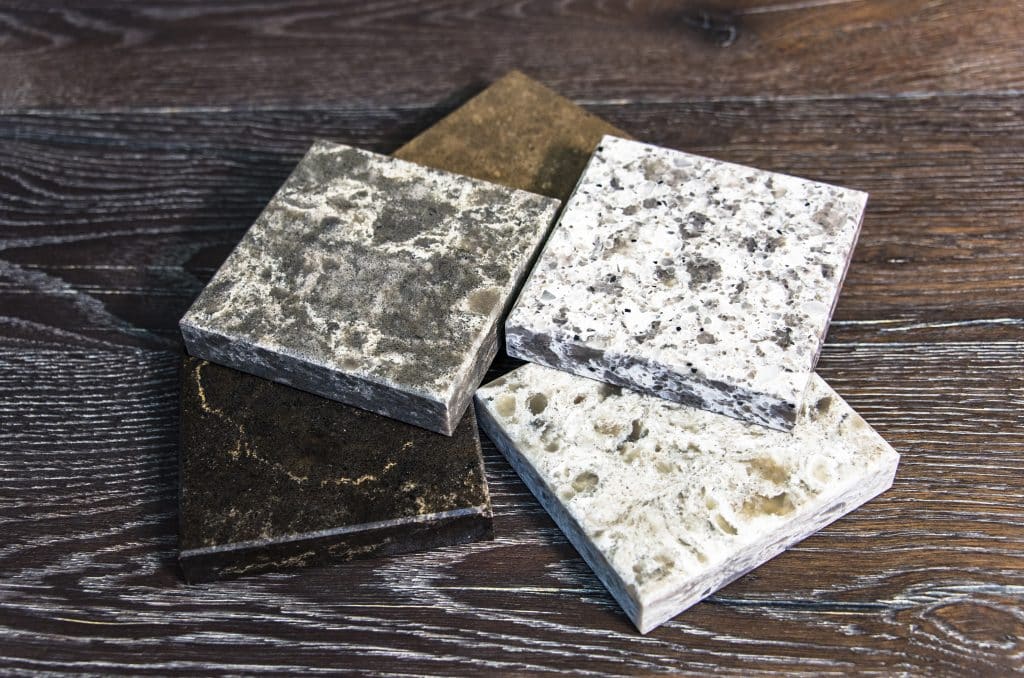 Granite
A widely popular choice for residential and commercial applications, granite is naturally harvested from quarries worldwide. It offers the strength and durability that most people are looking for, and it provides the uniqueness of a snowflake in that no two pieces will ever be identical. Maintenance is easy, as granite is best cleaned by using a neutral pH soap and water or an alcohol-based cleaner. When Jung Tile & Granite installs your countertops, they will be sealed as part of our installation process. As long as water holds a bead on the surface, rest be assured that your seal is perfect! After that, resealing is as simple as waxing a car. You can do it yourself, or give us a call for annual maintenance to keep your investment looking beautiful for many years to come.
Quartz
Quartz surfacing is another popular option. This man-made, non-porous, hard surface material makes it a maintenance-free choice. Quartz is available in beautiful solid colors, in colors with minimal movement, and some manufacturers are now making it with more dramatic veining and colors to mimic the look of marble, granite and limestone. Maintain quartz by cleaning with neutral pH soap and water and voila! You're done! Note: quartz is not an ideal surface for outdoor application, especially in areas that will be impacted by UV light.
Porcelain Slab
An innovative up-and-coming non-porous solid surface option that provides exceptional durability and requires no sealing and no special cleaning products. Porcelain is resistant to scratching, heat, and UV rays. Additionally, it is resistant to mold and fungi. Perfect for either interior or exterior application where high performance and ease of maintenance are required.
Solid Surface
Acrylic solid surface countertops such as DuPont Corian, LG Hi-Macs, and Samsung StarOn have the added benefit of being repairable if damaged. Additionally, the customer has the option of an integrated sink. Available in solid colors and solids with varied colors of "flecking." Maintaining solid surfaces is easy – just wash with neutral pH soap and water!
Laminate
Offering the same longevity and durability that you knew in grandma's house, this traditional countertop surface has undergone upgrades in design to now offer the warm look of wood, the designer look of natural stone, and contemporary patterns and colors. It's attractive and still a viable, budget-friendly option for countertops in kitchens, baths, and utility rooms.
With all the options of backsplashes to choose from, you're sure to find one to match any of these
countertop options! We're happy to help find the perfect complement to your project.
Request A Countertop Design Consultation Today!